2020 Honorary President Award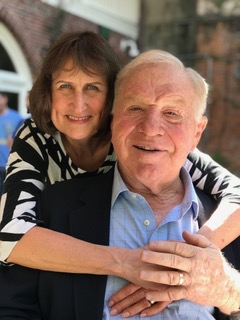 Doyle High Biography
Longtime member of the West Texas Pharmacy Association, Doyle High was born and raised on a farm in the southwest Oklahoma in the town of Walters. He attended Southwestern Oklahoma State University on a football scholarship, where he also graduated from pharmacy school in 1966 along with his first wife Roberta, after which he earned a Master's degree in Pharmacology and Toxicology in 1968 at the University of Kansas.
Moving to Haskell, Texas, in 1970, Doyle and Roberta bought Oates Drug Store, which they renamed The Drug Store in 1976. After a successful thirty years, Doyle sold the store to his junior partner, Lonnie Meredith, in 2000, following Roberta's untimely death two years before.
Both Roberta and Doyle were very active in the local, state, and national pharmacy associations. He worked his way up to President-Elect of West Texas Pharmacy Association and the Texas Pharmacy Association. Unfortunately he was prevented from serving as President of either organization because of Roberta's appointment to the Texas State Board of Pharmacy. She wouldn't have been able to serve on the state board had her spouse been an officer in any of the pharmacy associations.
Doyle was named Pharmacist of the Year by the Texas Pharmacy Association in 1995 and by the National Community Pharmacy Association in 2000. He was appointed to replace Roberta on the Texas State Board of Pharmacy, serving on that board until 2008.
Doyle sees his calling in the pharmacy world as helping young people get into pharmacy school and assisting young independent pharmacy owners in better understanding the business side of their pharmacies. While he and his wife were owners of The Drug Store in Haskell, they were instrumental in more than thirty-five young people's choice of pharmacy as their careers. In addition to pharmacy, he and Roberta co-authored the book The Redneck and the High Maintenance Woman.
According to Doyle, his second life has been just as rewarding. He married Bettie Bowen in 2000, moving to Austin in 2002. They purchased part ownership in two pharmacies with young pharmacist owners. Doyle helped organize and start Lone Star Pharmacy, which is now a member of the independent buying group Compliant Pharmacy Association, and served as recruiter for the group from 2000 to 2010.
As a tribute to his contributions to the field of pharmacy, he was recently honored when friends and family established an Endowed Scholarship in his name at his alma mater, the Southwestern Oklahoma State University School of Pharmacy. Sharing a love of travel, Doyle and Bettie have been to all seven continents in the last twenty years.
West Texas Pharmacy Association has played a major part in Doyle's life, both professionally and personally. He wholeheartedly supports the WTPA goals, which are simple and straight forward -- Fellowship, Scholarship, and Continuing Education. Since his many of his pharmacy contacts have become lifelong friends, the organization's annual meetings are like a family reunion to him, with WTPA claiming a special place in his heart.