2020 Heritage Award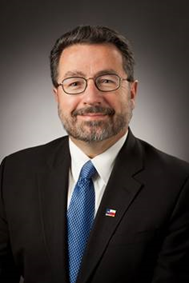 Quentin R. Smith, Ph.D. Introductory Bio - 2020
The West Texas Pharmacy Association (WTPA) Heritage Award is given to someone who:
has made a meaningful contribution to advance the practice of pharmacy in West Texas
has been active in participating in WTPA
is well thought of by the Board of Directors and our membership
We don't always choose to give an award each year. We wait until we find the right individual who meets these criteria and this year, we found that right fit in Dean Quentin R. Smith. Dean Smith has been highly involved in contributing his time, efforts, and knowledge to WTPA for many years during his time in West Texas. In addition to contributing in these ways, he has also started an endowed scholarship for our organization and is always active in our live and silent auctions – successfully outbidding everyone on many of our signs/pictures from the past years. He personally pushed to help get CE presentations from professors at the school for our 2020 conference in Amarillo, resulting in our highest number and diversity of CE we've had in some time. He truly cares about the profession of pharmacy, our organization, and students – always reaching out to ask what can be done to help them succeed. We are pleased to present the 2020 Heritage Award to Dean Quentin Smith.
Quentin Smith, Ph.D., serves as the Dean of the Texas Tech University Health Sciences Center (TTUHSC) Jerry H. Hodge School of Pharmacy.
After working more than 17 years in the National Institutes of Aging of the National Institutes of Health (NIH), where he served as a tenured research investigator and section chief, Smith began at TTUHSC in 1997 as professor and chair of the newly formed Department of Pharmaceutical Sciences in the School of Pharmacy. He worked with the Graduate School of Biomedical Sciences in 1999 to extend their training to the Amarillo campus with creation of the Pharmaceutical Sciences Graduate Program. In 2009, he became the senior associate dean for sciences of the School of Pharmacy, and in 2012 was appointed dean of the School of Pharmacy. From 2017-2019, he also served in a concurrent role as the TTUHSC Senior Vice President of Research.
Since joining TTUHSC, Smith has worked to build research and education in the School of Pharmacy. Though the school is only 20 years old, it has placed in the top third of Schools of Pharmacy nationally, ranked 16th in the nation by Graduate Programs.com, and 36 of 129 in U.S News and World Report. In the last five years, the School of Pharmacy has more than doubled the number of graduates going into postgraduate residency training.
Smith is an internationally distinguished researcher who, since leaving the NIH, has been awarded substantial extramural grant funding and has lead several international scientific conferences, including the Gordon Research Conference on Barriers of the Nervous System in 2012. He is a Fellow of the Association of Pharmaceutical Scientists and received both the Award of Merit (1995) from the NIH and the meritorious manuscript award (2014) from the American Association of Pharmaceutical Sciences.
At TTUHSC, he has received the Chancellor's Council Distinguished Research Award, the Grover E. Murray Professorship, University Distinguished Professor and the President's Excellence in Teaching Award. The graduating class of the School of Pharmacy recognized him twice as the Most Influential Professor.
Thank you Dean Smith for all you have done and continue to do for the profession of pharmacy, its students and our organization!