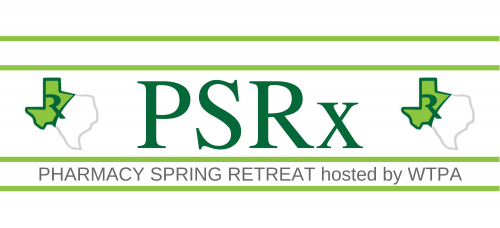 Please support our efforts in the Ukraine:
To donate and learn more click HERE

Do you still need to complete your C.E. Evaluations from the 2022 Spring Retreat?
Click the link Here
2023 SPRING RETREAT
March 3-5,2023 Lubbock, TX
More information coming soon...
We are excited to have awarded 29 scholarships to pharmacy students this past year. Click the link below to see the list of recipients.
Dear Members & Guests of WTPA,
Welcome to our 101st annual Pharmacy Spring Retreat hosted by WTPA. We are glad to be back in person for 2022 in Abilene, Texas. While the last 2 years have been an interesting time with the pandemic, we are optimistic for the future ahead. I would like to thank all our members and sponsors for their continued support of WTPA throughout the pandemic. We held a virtual conference for our 100th annual convention in 2021 and will continue to use this virtual feature in the future for people unable to attend the conference in person. After 101 years, WTPA continues to be robust leaders in our foundational pillars of continuing education, scholarship, and fellowship. We have become stronger as an organization and profession because of COVID-19. We will use this momentum to continue to adapt and be leaders in our profession.
West Texas Pharmacy Association was organized in 1921 and is one of the oldest pharmacy associations in the state of Texas. WTPA has stood the test of time for 101 years and our continued history is full of unique individuals and a very honorable heritage. We have been very fortunate these past 101 years to have wonderful support, and we plan to be around another 100+ years with continued support from members and guests like yourself. WTPA operates as a 501(c)(3) non-profit organization and accepts tax deductible contributions to fund scholarships to qualified pharmacy students. Our endowment program creates many scholarships annually and provides a way for companies, individuals and families to create an enduring legacy. A tax-deductible contribution of $20,000, which can be paid in installments, will create a $1,000 annual scholarship that will be awarded in perpetuity. You also have the option of contributing a one-time $1,000 scholarship to invest in the future of our profession and establish a legacy through WTPA.
The board of directors and myself look forward to seeing everyone in person this year to celebrate 101 years of WTPA. We will continue to provide high quality CE, fellowship, and give out $30,000+ in scholarships to deserving pharmacy students. As members and ambassadors for WTPA, I ask you to please continue to spread the word of this historic organization to your friends and colleagues. Continue to follow us on Facebook and check our website at www.westtexaspharmacy.org for updated information regarding this and future conferences. Feel free to reach out to any board member as well with any questions you may have.
In closing, I would like to give a sincere thank you to all the board members for their dedication and continued hard work over the last 2 years to make this conference all possible. I am honored to be able to work with and serve some of the greatest individuals in the pharmacy profession. I look forward to seeing our WTPA family here in Abilene for a celebration of the past and a commitment towards the future.
Matthew Pennington, R.Ph., Pharm.D.
President
West Texas Pharmacy Association
Check back here and our WTPA Facebook page for updates about how to participate, what logins you will need, and more.